Emergency lighting is intended to provide illumination to enable people to see their way safely out of a building in the case of emergency.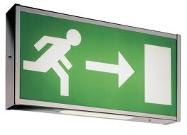 Routine Emergency Light System & Maintenance

It is vital that emergency lighting comes on if the normal lighting fails. It should be sufficiently bright, illuminate for enough time and the light sources positioned so that the occupants can be evacuated safely in an emergency.
BS 5266 Emergency Lighting, the Code of Practice for the emergency lighting of premises, offers guidance on the positioning of emergency lights, height levels, acceptable glare levels, together with the minimum routine testing schedules.
Emergency lighting requirements specify that lights are positioned:
*
Along escape routes
*
At every change in direction
*
Adjacent to any step or trip hazard
*
Over every flight of stairs so each tread receives direct light
*
Close to fire fighting equipment and call points
*
Close to any first aid points
*
Outside every final exit
* It is also recommended that external lights guide evacuees away from final exits.
BS 5266 puts additional emphasis on the importance of regular testing of emergency lighting equipment.
PatLec Services Ltd
offer a full test and maintenance service on emergency lighting. A full maintenance test report will be issued.
We supply and fit all types of outside PIR Security lighting, Bulk head lighting and domestic lighting. The engineers undertake all general electrical works and electrical installation condition reports.
Get Tested - Get Safe - Get PatLec
PatLec Services Ltd
2 Magpie Close
Thatcham
RG19 3RZ
Tel: 01635 226393
Mobile: 07944 273660